Physical Education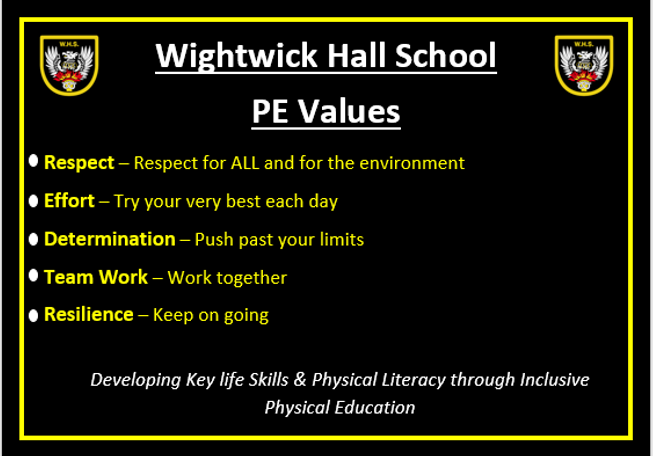 Welcome to the Physical Education Department
Physical Education
As a department, we provide students with the opportunities to participate within a range of inclusive activities and events that enhance students physically, socially, cognitively with the aim to develop key life skills and physical literacy through PE. The promotion of British Values is also a key aspect in the PE curriculum at Wightwick Hall School whereby students develop:
Understanding of democracy through following a code of conduct for PE and also being taught about different roles and responsibilities within sport and PE.
Students also develop knowledge based around the rule of law and are taught about fairness, appropriate rules, and respect through PE. Students also learn the ability to work well both individually and as part of a team.
PE develops the understanding of individual differences and allows everyone to have a voice, enhancing individual liberty where people are listened to and people's views are respected.
Mutual respect and tolerance is also developed through PE by offering students the opportunities to gain knowledge about environments and cultures.
Key Stage Three
PE at Wightwick Hall School consists of two hours minimum with three key aspects of developing pupils to achieve their very best. Developing students in their physical capability, key life skills and their effort to try their very best. Students will also cover a range of different topics and sports such as invasion games, net/wall games, fitness, creative movement, striking and fielding and athletics. In addition, students will be offered a wide range of extra-curricular enrichment opportunities allowing them to experience a variety of sports and activities.
Student Assessment
PHYSICAL
Pupils will be assessed on physical skills relating to the following topic areas: Creative Movements, Fitness, Invasion Games, Net/Wall, Athletics, Striking and Fielding and Fundamental Movement Skills (FMS).
EFFORT
Pupils will be assessed on their efforts in each lesson and the amount of work that they put into the activities and tasks set within PE lessons.
LIFE SKILLS
Pupils will be assessed on various key life skills that will enhance their personal, emotional and social development: Communication, Teamwork, Reflection, Healthy Values, Literacy, and Decision Making.
Key Stage Four & Five
When entering into Key Stage Four in Year 10, Students will receive three hours of PE and begin studying the BTEC Sport course which they will complete over two years. This covers a range of sporting aspects and will allow students to study sports and physical activity at a deeper level.
Once students have then completed their BTEC Sport course in Key Stage Four, they will then have the opportunity to expand on this knowledge in Key Stage Five where students will have gained the knowledge and skills to study in BTEC courses at Key Stage Five level.
As a department, the main goal is to develop physically literate individuals that have a love of learning and will participate within sport or physical activity for a lifetime. Understanding and developing the key values and life skills that will serve them for a lifetime throughout school and after they have move on into adulthood.
PE Year Plan